Ahmedabad is a vibrant city with a wonderful culture, unique festivals, delicious biryani, ever-smiling citizens, and glorious history. Ahmedabad is famed for the Sabarmati Ashram and Kankaria Lake. its magnificent mosques, breathtaking architecture, patriotic monuments, lovely gardens, and temples. It has always been the essence of western India, holding the rich tradition of Hindu and Muslim kings. With so many interesting places to visit in Ahmedabad, Here is a compiled list of ten attractions you see during your visit to this cultural city.
Sultan Ahmed Shah built the city in 1411 A.D. And though, the area all around town has been populated since the 11th century as it was established as Ashaval. Ahmedabad is situated on the banks of the Sabarmati River. This city is situated at a distance of 30 km (19 mi) from Gandhinagar, the capital of Gujarat.
Ahmedabad has emerged as a major industrial and economic hub in India. Ahmedabad was identified as the "Manchester of the East" for its textile sector. In 1487, the city was enhanced with an outer wall 10 km (6.2 mi) in circumference by Mahmud Begada, the grandson of Sultan. It is also the second-largest cotton manufacturer in India and its capital market is the country's second-oldest.
---
10 Places to Visit in Ahmedabad
Sabarmati Ashram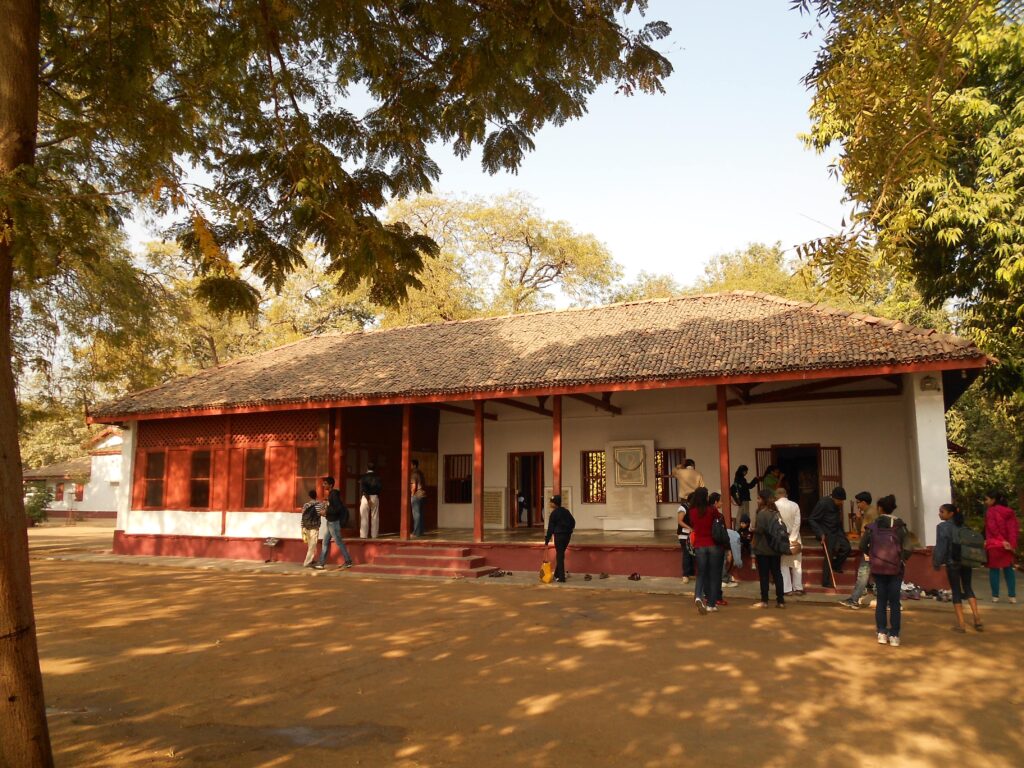 Sabarmati Ashram is a popular place in Gujarat that is also known as Satyagraha Ashram and Gandhi Ashram. Here, Gandhiji used to reside with his wife, Kasturba Gandhi. It is a location where his legendary movement Dandi March started. Perched upon 36 acres of land, the ashram consists of certain items regarding the history of Gandhi's life.
This location is recognised as a national monument by the Government of India. It has become one of the most-loved places to visit in Ahmedabad. When taking a tour of Ahmedabad, don't miss the chance to visit Gandhi's Ashram.
Entry Timings: 8:30 am to 6:30 pm
Best Time to Visit Sabarmati Ashram: October to March
Major Attractions: Museum section, where the personal belongings of the Mahatma and many of his letters
Ideal Duration to Explore: 1 to 2 Hours
Bhadra Fort
Bhadra Fort is an imposing historic tourist place in Ahmedabad fort located on the east bank of the Sabarmati River. It was constructed by the founder of Ahmedabad, Sultan Ahmad Shah I, in 1411 AD. Over the years, numerous rulers managed to conquer the Fort, and in 1817, the British defeated the governing Marathas and took over the Fort.
They transformed it into a prison during the whole British Rule in India. The Maratha leaders built a BhadraKali Temple inside the Fort, which gave the Fort its title. The Fort exists on a sprawling floor of about 43 acres with an elegant palace, the BhadraKali Temple, the Nagina Baug, Teen Darwaza and Ahmad Shah's mosque. There are several famous places to visit in Gujrat like Uparkot fort in Junagadh, Diu fort, Champaner fort, and many others.
Best Time Visit Bhadra Fort: November to February
Opening Timings: 9 am to PM
Ideal Time to Explore: 1 to 2 Hours
Jama Masjid
The Jama Masjid in Ahmedabad is amongst the most famous attractions in the area. Jama Masjid is the largest mosque and is famous for its Indo-Islamic architecture. Ahmad Shah built the mosque I, the founder of Ahmedabad, in 1423 AD. The architecture is a splendid blend of Hindu, Muslim and Jain architecture. For example, there seems to be a huge archway at the doorway complete with intricate carvings on stone. Made of Yellowstone, the mosque has about 260 pillars, and each pillar is coated with intricate carvings.
Another special feature is the vibrant stream of light through the beautiful latticework screens that flood its interiors. The Jama Masjid is among the best places to visit in Ahmedabad because of its architectural splendour and history.
Opening Timings: 6 am to 8 pm
Best Time Visit Jama Masjid: October to March
Ideal Time to Explore: Before 12 pm and 2 pm to 4 pm
ISKCON Temple
The ISKCON Radha Krishna Temple is a wonderful Temple devoted to Lord Krishna and Radha. The Temple grounds are scattered over a sprawling 4 acres. The entrance hall is one of the Ahmedabad attractions, and it a one of the biggest in the country, with a capacity to hold over 4000 devotees at a time. The architecture and design reflect a harmonious blend among both Gujrati Sompura architecture and Rajasthani Khamira designs.
The Temple has some ornately carved marbles, vibrantly coloured murals, beautiful columns and magnificent marble floors. Inside the temple complex, you will also discover a library, a hostel, a meditation room and a restaurant, and it is a beautiful place in Ahmedabad. Religious people worldwide visit this Temple, particularly during the festivals attempting to make it one of the most popular tourist attractions in Ahmedabad.
Entry Timings: 4:30 am to 9 pm
Best Time to Visit: Year-round, Janmashtami and Nand Mahotsav
Major Attractions: Janmashtami and Nand Mahotsav
Ideal Duration to Explore: 1 to 2 Hours
Auto World Vintage Car Museum
Shri Pranab Bhogilal founded the Auto World Vintage Car Museum in 1927. He was a vintage car enthusiast personally and transformed his collection into a museum. There are over 100 exclusive antique cars on showcase in this Museum.
Each one is the best representation of premium brands like Bentley, Jaguar, Rolls Royce, Maybach, Austin, Chrysler, Cadillacs, and so many more. Auto World Vintage car museum is one of the top places in Ahmedabad. The most fascinating and special segment is that one of these cars is specially designed according to the specified requirements of the buyer.
Entry Timings: 8 am to 9 pm
Best Time to Visit: October to March
Major Attractions: special cars for special events such as the convertibles for evening rides, limousines for rituals and ceremonies, boats, station waggons, motorcycles and horse-drawn carriages.
Ideal Duration to Explore: 1 to 2 Hours
Tickets: INR 50 per person.
Gujarat Science City
For all those holidaymakers who would like to head on a fast educational adventure with their kids, Gujarat Science City is hands down one of the greatest travel places to visit in Ahmedabad. It is a popular tourist destination located 4 Km away from Sarkhej Gandhinagar Highway, and it draws many family travellers who visit here just for picnics and infotainment.
One can spend around 4-7 hours learning new information related to technology and teaching the same with their kids in the most playful manner. To make your Ahemdabad trip a combination of fun and learning, don't forget to have included Gujarat Science City in your travel itinerary.
Entry Timings: 10 am to 7:30 pm
Best Time to Visit: Winter season
Major Attractions: IMAX 3D theatre with screens as big as a 10 storeyed building. 3D movies with Dolby sound functionality
Ideal Duration to Explore: 1 to 2 Hours
Tickets: INR 25 per person.
Nalsarovar Bird Sanctuary
Nal Sarovar translates to Tap Lake. The resemblance is that this popular tourist place in Ahmedabad and here houses numerous different kinds of bird species that are attracted to this lake. This bird wildlife sanctuary is about 64 km to the west of Ahmedabad near Sanand Village, Gujarat.
Nalsarovar wetland in Gujarat is considered the biggest wetland bird sanctuary in the state. As many as 200 different species of birds can be divined and enjoyed. The birds migrate from across Siberia, Oman, UAE etc. Besides these, typical species like pelicans, ducks, herons and storks can be found easily. If you love bird spotting, there are numerous places to visit bird sanctuaries in India, like Bharatpur bird sanctuary and Sultanpur bird sanctuary.
Entry Timings: 6 am to 5:30 pm
Best Time to Visit: November & February
Major Attractions: 210 species were attracted to Nal Sarovar
Ideal Duration to Explore: 1 to 2 Hours
Tickets: Rs. 75/- per Indian visitors on weekdays and Rs. 85 on weekends. For foreigners, the entry fee is $10 on weekdays and $12.50 on weekends.
Lothal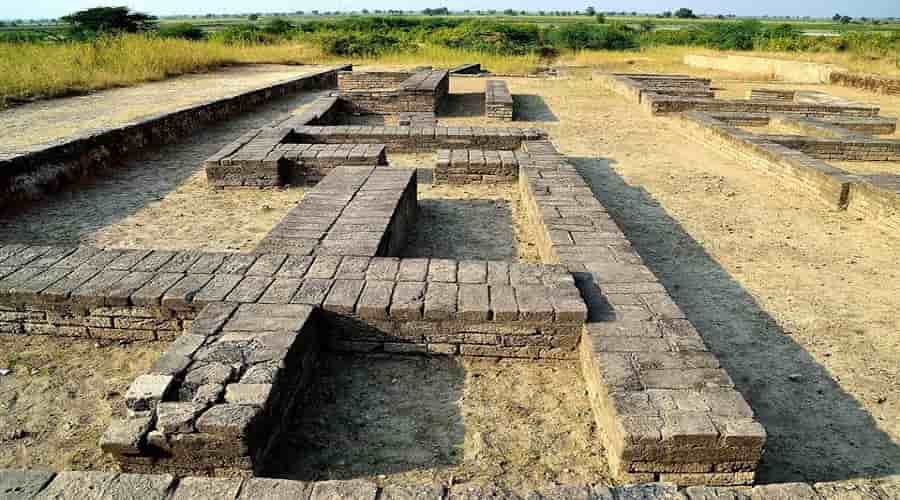 Are you looking for some historical and popular places in Ahmedabad? Then, take a deep dive into the eventful history of Gujarat at this excavation site tucked away in the Bhal region of the city. Standing as a living example of Indus Valley Civilization, Lothal takes you on a walk down the remarkable Harappan culture, which is labelled by impeccable architectural style and premium city planning.
The archaeological digs at this site reveal that Lothal town was earlier subdivided into two parts, such as upper part and lower part. Lothal also houses a beautiful museum formed in 1976, which has three galleries that display a plethora of objects, including painted pottery, beads, jewellery, and toy bullock carts. Furthermore, you could also find several seals from Bahrain, Egyptian objects, and terracotta figures from Sumeria.
Entry Timings: 10 am to 5 pm
Best Time to Visit: July to March
Major Attractions: vast ruins of the ancient city. sites of the ancient dockyard, the acropolis, the lower town, the bead factory, the warehouses, and the drainage system.
Ideal Duration to Explore: 4 to 5 Hours
Kankaria Lake
Kankaria Lake was originally known as Hauz-E-Qutub and served as a bathing area for the sultans of that era. It now looks like a beautiful island garden in the middle with a wonderful summer palace known as Nagina Wadi. Kankaria Lake is among the best places to visit in Ahmedabad to luxuriate in a picnic.
You could also enjoy the different activities such as toy train rides, tethered balloon rides, kid's city and boat rides at the entertainment zone. The region from around the lake is a great comforting evening stroll. There are some other activities you can participate in here, including archery, gymnastics, and water rides.
Entry Timings: 4 am to 11 pm every day except Monday. No entry between 8 am to 9 am and 10 pm to 11 pm.
Best Time to Visit: October to March
Major Attractions: The Kankaria Lake Carnival, held here during the last week of December
Ideal Duration to Explore: 4 to 5 Hours
Tickets: Rs. 5 for kids below the age of 12 and Rs. 10 above 12.
Law Garden
Law Garden is a gorgeous oasis of lush greenery in the heart of the vibrant city of Ahmedabad. It is among the most amazing places to see in Ahmedabad. It is a public garden. Both tourists and locals love visiting this place to indulge in some comforting and recreational activities. The greenery of Law Garden is a fantastic place to enjoy a refreshing walk or spend some quality time with friends and family in the evening.
The Law Garden Night Market is very well known among local people and visitors. This market offers a different shopping experience as the retail goods here are hand made by local artisans. The Garden also provides a venue for several cultural and music festivals, music festivals and other activities.
Entry Timings: 5 am – 12 Noon, 2 pm – 10 pm
Best Time to Visit: October to March
Major Attractions: street shopping and delightful Gujarati street food and snacks.
Ideal Duration to Explore:1 to 2 Hours
Ahmedabad is a beautiful city, and its tourism destinations and attractions are spread far and wide. These are all the top places to visit in Ahmedabad. Some of them are mysterious and astonishingly beautiful. They are the icons of this vibrant city of Gujarat and its top tourist hotspots too. So if you also are stunned to discover these places, visit them during your next visit and make your Gujarat trip more memorable and exciting.
FAQ
Is Ahmedabad worth visiting?
Ahmedabad is among India's safest cities. You can roam around securely at night, and single travellers may enjoy the city's beauty without worrying about safety.
How can I spend 2 days in Ahmedabad?
Often, a weekend may feel too fast to explore all of it. But it is surprising how much you can do in 2 days. You can start your day with the Sabarmati ashram and there are so many places to visit in Ahmedabad.
Is there any beach in Ahmedabad?
There are a few beaches near Ahmedabad that are suitable for holidays. Hazira beach, dumas beach, tidal beach and so many more beaches are there you can enjoy with your family.
What is the best time to visit Ahmedabad?
As of the whole year, it is the hot climate in India. But, most often, winters are the perfect time to visit Ahmedabad. In Winters, there is a comparatively less hot climate than regular. Still, it's nice to take sunscreen and other necessities with you about a trip to Ahmedabad in winter weather.
What are the best things and What are the most famous places in Ahmedabad for Shopping?
Ahmedabad is famed for its chaniya cholis, which is the traditional clothing of Gujarat. Most textiles are outsourced from Ahmedabad. Many antique jewellery and cosmetic products are cheap rates in Ahmedabad, and Manek Chowk, Law Garden, Lal Darwaja are top places in Ahmedabad for Shopping.