Plan a trip to Kalimpong to fall in love with the hills. Here's a blissful and peaceful experience like never before. Kalimpong is a beautiful and famous East Indian hill town in the Himalayan foothills of West Bengal. If you decide to take a tour of Kalimpong, there is a long list of places to visit in Kalimpong.
Tourist Place in Kalimpong which are known for Buddhist monasteries, Tibetan handicrafts, and panoramic views. Many tourist attractions dare due to their temperature, climate, natural environment and region. Kalimpong is a delight to visit natural feelings with high love hills fulfil your heart with a sublime experience.
A gateway in Tibet & China annexation of Sino-Indian War & Tibet. Teesta River is a tourist destination of Horticulture that exports Himalaya grown tubers, flowers and rhizomes. Several rare Tibetan Buddhist scriptures holding Tibetan Buddhist monasteries by Zang Dhok Palri Padang. Spend your holidays there and discover all the beautiful places to see in Kalimpong that are tourist attractions.
---
10 Places to visit in Kalimpong
Deolo Hill
Deolo Hill is the highest peak town and adventurous place of Kalimpong. A wonderful scenic spot. Deolo Hill has one of the best and most beautiful views located at a height of 5577.428 feet in the northeastern part of the city's surrounding valleys, rivers, and villages from where you have never seen it before. Deolo Hill tourist place is also popular to do horse riding, paragliding and trekking etc.
Deolo Hill tourist place has a well-maintained garden and parks best for photography. There is also available government accommodation, a nice guest house. A good place to enjoy a sunny day and foggy day.
Best Time To Visit Deolo Hill: March to May
Major Attractions: Buddha Statue, Hanuman temple, villages of Relli valley and Teesta River
Ideal Duration to Explore: 3 Hours
Things to Do: Horse Riding, Paragliding, Trekking
Thongsa Gompa Monastery
A monastery is a perfect place for meditation. Thongsa Gompa Monastery is also known as the oldest Bhutanese Monastery established in 1692 belongs to the Nyingmapa sect. The present main building is surrounded by 220 small prayer wheels, unlike the usual 108 at most other monasteries.
A peaceful place to visit in Kalimpong is Thongsa Gompa Monastery located 10 miles near the Mangal Dham temple. The best time to visit is the morning shrine during the prayer sessions. Tourist place Thonga Gompa Monastery should be on the Kalimpong sightseeing list. The area boasts of the oldest monastery of spiritual ambience giving a surreal experience and taste of the thrill in Kalimpong. The monks carry out prayer services there.
Best Time To Visit Thongsa Monastery: Morning Shrine Prayer | Opens: 8 a.m. to 5 p.m
Major Attractions: Monks Prayer, the peaceful and perfect place for meditation.
Ideal Duration to Explore: 1-2 Hours
Things To Do: Attend monks carry out prayer services.
Tiffin Dara Viewpoint
Tiffin Dara is a beautiful spellbound viewpoint in the lap of the Kolbong forest range that can steal your heart on a cloudless morning. Visit Tourist place Tiffin Dara viewpoint from two trekking routes – At a distance of 2 km from Rishop and 4 km from Lava. Tiffin Dara ViewPoint is located in Rishop highest peak perched at an altitude of 8,000 feet above sea level.
Magnificent views surrounding the Kanchenjunga range and the blue mountains of Sikkim. If you visit there in the morning for the sunrise because Tiffin Dara viewpoint is famous for stunning sunrise & sunset. To reach TiffinDara Viewpoint Tourist Place through Lava is the deep silent forest of Pines, Orchids & Rhododendrons. Also can reach Tiffin Dara by a 2 km uphill walk from Rishyap, a forest trail that avoids it in the rainy season.
Best Time To Visit Tiffin Dara: May to Aug
Major Attractions: Pine tree forest, Mountains of Sikkim and Kanchenjunga
Ideal Duration to Explore: 1-2 hours
Things to Do: Trekking, Picnic, Lava & Rishop Viewpoint
Haat Bazaar
A famous open-air marketplace of Kalimpong is Haat Bazaar tourist place located at a distance of 500 m from Kalimpong Bus Station. Tourists can be reached from Rishi road in Kalimpong. The wonderful places to visit in Kalimpong of local culture provide a benefit to customers that lower rates for products.
Many villagers come here and set up stalls to sell their goods like clothes, umbrellas, bags, fruits, vegetables, local and agricultural produce, spices & much more tasty local delicacies at Haat Bazaar.
Best Time To Visit Haat Bazaar: Every week on Wednesday and Saturday between 7 AM to 6.30 PM
Major Attractions: Open-air market of local products, villagers selling, variant products street.
Ideal Duration to Explore: 1-2 Hour
Things to Do: Buy local produce, rare items shopping, culture meeting
Pedong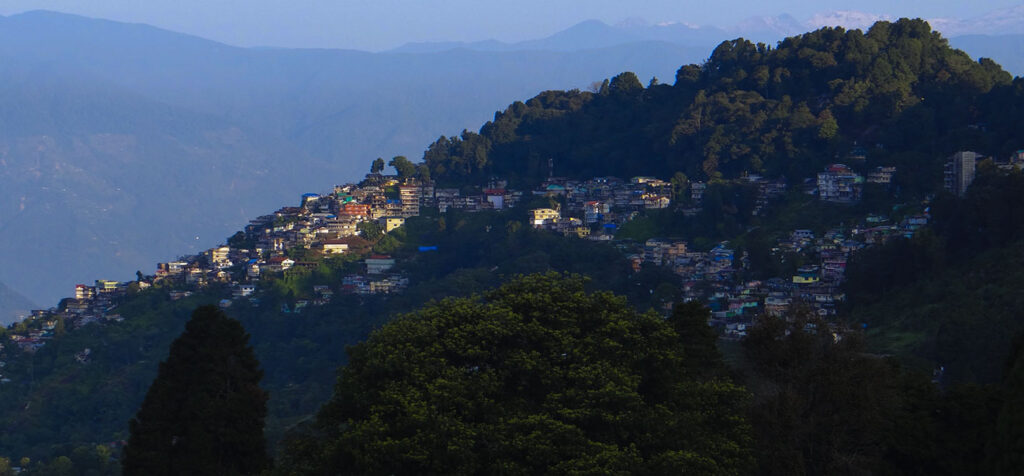 Tourist place Pedong is a town and an emerging tourist place to visit in Kalimpong located 20 km away just off the road going to Lava. The sightseeing in the Pedong area is home to solitude and proximity to nature. More attractions Pedong backside is pine forests and beautiful views of the mountain ranges and snow ranges of Mount Kanchenjunga. Pedong also a historically witnessed ethnic war between Lepchas and Bhutias.
Pedong village is another hidden beauty of Kalimpong hills spread North to South on a ridge route used to connect Tibet with India through the Jelep La Pass. From the top of Pedong, you can see magnificent views of the surrounding hills. The starting point of some interesting small hikes. A short and thrilling trek originating from Pedong leading to "Damsangdug" still holds memories of the reigns of the Lepcha Kingdom.
Best Time To Visit Pedong: May-August
Major Attractions: Town in the heart of pine trees forest
Ideal Durations to Explore: 2 days
Things To Do: Trekking, Pedong Hills View & Paragliding
Teesta River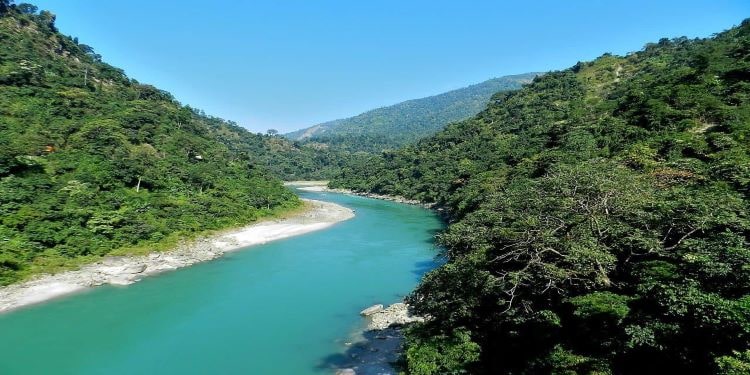 Teesta river is a great experience for enthusiasts of nature and adventure. The longest river of the melting snow of the glacier accumulated during rainy seasons. The main tributary of the river meets Teesta Bridge before.
Most beautiful tropical deciduous trees and alpine vegetation across the Teesta river. Attractions for tourist places Teesta River have rafting facilities available in the towns of Melli and Teesta Bazaar. Teesta Bazaar is famous for buying unique and non-branded materials like crockery, Tibetan jewellery, footwear, scrolls, lanterns, handmade wallets, and food items. Also offers travellers an amazing view of the confluence between river Teesta and Rangeet with the best rafting stretches of the world.
Best Time To Visit Testa River: March to June | September to November
Major Attractions: Rafting place Melli & Teesta, Teesta Bazaar etc.
Ideal Duration to Explore: 2-6 Hours
Things to Do: River Rafting, Teesta bazaar shopping, trekking in Teesta river forest across
Dr Grahams Home
Dr Graham's Home is a prime place from the list of tourist places in Kalimpong for attraction and an important education hub. John Anderson Graham has founded "Dr Graham's Homes" tourist place in 1900 a place of ample opportunities and attractions Paragliding, Science centre and Kalimpong water reservoir.
Dr Graham's Homes is a co-educational boarding and day school affiliated with CISCE, New Delhi. The famous tourist place Dr Graham's Home offers beautiful views of Kalimpong town and Sikkim. Some of the households providing lodging to the tourists visiting here. The famous Dr Graham's Homes School's students come here to study from all over the world.
Best Time To Visit Dr Graham Home: 2 PM – 5 PM
Major Attractions: Cottages, Farmhouse, Workshop, Hospital, Bakery, Dairy, Poultry
Ideal Duration to Explore: 1 Hour
Things to Do: Dr Graham Home sightseeing
Rikisum
Rikisum is also known by another name, Room. Tourist place Rikisum located on top of a densely forested hill provides the highest view of the surrounding mountains Kanchenjunga, Kalimpong, Darjeeling, Gangtok, Pedong, and others to have a panoramic 360-degree view of a far and wide area range.
Tourist Place Rikisum is a small village in Kalimpong. Neora valley is located at the backside of Rikisum village which offers excellent opportunities for vegetation and birding. Rikisum top height is located places in Rishyap and Pedong apart from the entry pass of Tibet. This unique hilltop to visit for nature lovers.
Best Time To Visit Rikisum: May To June
Major Attractions: Forest Hill, Surrounding views of 360
Ideal Duration to Explore: 4-5 days for complete tours
Things to Do: Neora Valley vegetables and birding
Macfarlane Church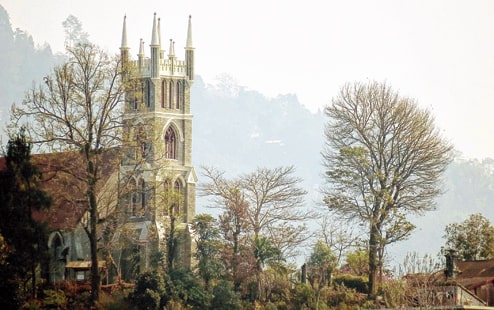 Macfarlane Church is one of the oldest churches was constructed in the year 1890-91 in Kalimpong. There are majestic sights of nature's Kanchenjunga and man's MacFarlane church. The superlative architecture of the church attracts many tourists from all over the world to pray for a healthy and wealthy life. The church sermons present in ten different languages namely Lepcha, Sanskrit, Chinese, Bengali, Nepali, Bodo, Hindi, English, Tibetan, and Urdu.
Tourist place Macfarlane Church has a beautiful and peaceful view of Mount Kanchenjunga with its remarkable architecture and beautiful weather. The celebrations of Kalimpong's MacFarlane Memorial Church anniversary are scheduled to begin from Monday at Town Hall.
Best Time To Visit Macfarlane Church: Morning/Afternoon worship Every Sunday (9:00 am to 5:00 pm)
Major Attractions: Kanchenjunga natural sights, Monday Town Hall
Ideal Duration to Explore: 2 days above
Things to Do: Pray in church, Sermons in your language, Superlative architecture Building of church
Nature Interpretation Centre
The Nature Interpretation Centre is located on Rinkingpong Road, a kind of museum that's maintained by the woodland department. Nature Interpretation Centre works toward human activities such as global warming and animal extinction and spreading focus on numerous environmental problems.
This Nature interpretation centre is also known as the "Forest Museum" is managed by the forest department and researchers to help in determining the adversaries of human influence on the environment. Visitors come to know more about the kind of wildlife and natural environment. The centre is filled with information, pictures, photographs and even books of environment and ecosystem and the best place from the lists of places to visit in Kalimpong.
Best Time To Visit: Opens Daily 10 am to 6 pm | Except Thursday
Major Attractions: Environment and ecosystem books, information on wildlife and nature
Ideal Duration to Explore: 3-6 Hours
Things to Do: Read natural & wildlife books, pictures, photographs to fulfil your knowledge
If you have a desire to travel and you want to go to such a place where you get knowledge and a peaceful environment along with adventure. So we will recommend for best tourist places to visit in Kalimpong. Make this the most memorable and joyous trip with your family and enjoy natural beauty, science education and historical charm.
FAQ
Is Kalimpong worth visiting?
There are exciting things to do in Kalimpong like paragliding in Kalimpong and climbing Deolo Hill to views the mountains.
Is Kalimpong higher than Darjeeling?
Kalimpong is just 51 km higher than Darjeeling and 70 km from Siliguri.
What is the best time to visit Kalimpong?
March-May or September-November is the best time to visit Kalimpong.
How many days are enough for Kalimpong?
4 to 6 days are enough for Kalimpong.